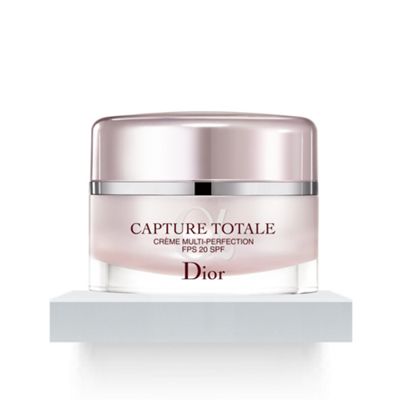 Image from Debenhams.com
I've been trying out Diors Capture Totale Multi-Perfection Cream for a couple of weeks now, and I cannot believe how much I like it! I only had 3 tiny samples of it and unfortunately they're almost all empty. This cream has a gorgeous floral scent which lingers around for a few hours after application. I have very sensitive skin and didn't experience any irritation from this cream.
Dior Capture Totale Multi-Perfection Cream Swatch
The cream itself has a medium, smooth consistency but feels like it sits quite thickly on the surface of the skin. Due to this it seems to act as an effective wrinkle filler. Although I'm too young to have any major wrinkles, I do have some little ones in my under eye area, and at the edge of my mouth. This cream smoothed them out so much that when I applied my foundation, they were hardly visible. It's also great for smoothing out the complexion, I couldn't believe how even my skin felt with this product.
Dior Capture Totale Multi-Perfection Cream
This cream sinks into my skin enough for me to apply make up in about 10 to 15 minutes after application, so by the time I've dried and straightened my hair its normally sunk in. I applied this cream about 10 hours ago and I can still feel how soft and even it's made the surface of my skin feel. It also contains SPF 20 which is slightly higher than your average face cream.
Dior Capture Totale Multi-Perfection Cream Swatch
I have combination skin and found this cream to be very moisturising. I only used it on my cheeks, neck and forehead, as when I used it on my spot prone chin and oily nose it made me break out, (I'm very rarely able to use moisturiser in these areas, the only product I've been okay with is
Clarins Daily Energizer Cream
). I found it great to wear when its really cold as I felt that the coating it gave my skin helped to protect it from icy conditions which I usually find dry my skin out.
You can get this cream from Dior counters or from
Debenhams.com
for £110.50.
Princess points: 4/5
This is the best face cream I've ever used for smoothing out fine lines, but it's so expensive I sadly won't be buying a full sized tub any time soon. I would definitely consider buying it when I'm a bit older and have more of a need for a wrinkle filler. But as it made me break out I think I'l keep hunting for that perfect face cream